SOSTAPAY
This contactless prepaid card is designed for the residents of the Municipality of Siena and its Province to obtain discounts in car parks around the city. Being easy to use and to top-up, it has been chosen by over 20.000 citizens.
With Sostapay you can extend your parking on Si Park App just by modifying your parking hours. Paying has never been easier since you can pay in-app without having to use the parking meter or display the ticket on your vehicle windscreen. The Local Police has a reserved feature to control if your vehicle has a valid ticket.
SOSTAPAY RATES
– Car parks with parking meters in ARU areas: € 0,55/hour
– Parking facilities and non-ARU car parks with parking meters:
Residents of the city of Siena € 0,60/hour
Residents of neighbouring Municipalities € 0,65/hour
Residents of other Municipalities of Siena Province € 1,00/hour
SOSTAPAY REQUEST
To request the Sostapay card, click on the link below:
The SostaPay card should then be picked up at PUNTO UNICO located in Via di Fontebranda,77 in the following opening hours:
From Monday to Friday
8:15 – 12:45
14:00 – 16:30
---
SIPARK
SiPark is the App for smartphones with updates on the number of parking places available in our parking facilities. With this App you can also top-up your Sostapay card and pay for parking in-app without having to use a parking meter.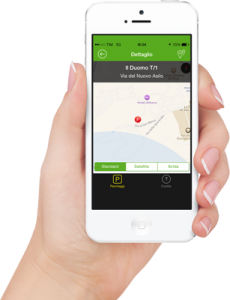 You can download the SiPark app on this page or on on-line stores for Apples and Androids.
New features are now available with the latest app update.
Until now, you could only top-up your Sostapay at the automated payment machines located inside the parking facilities. Furthermore, it wasn't possible to extend the lenght of your parking without going to the parking meter to print a new ticket to display on the vehicle.
All you have to do now is to open the app on your phone, select the extra parking hours needed and pay in-app.
Even when parking, it is no longer necessary to go to the parking meter and display the ticket on your vehicle windscreen. With the app you can pay for the place occupied by your car either by writing the address where your vehicle is parked or through a geolocalization system. This also allows the user to check the rate to pay.
The Local Police has a reserved area used to control the validity of the ticket associated to a specific plate number.
Parking meters will still remain in use for those parking users who prefer to use the classic payment method.
In-app payments can be made by credit card or by charging directly the amount to your Sostapay.
Enter in your personal area of SìPArk website.
Download the SìPark app: